Powered by SmartCare, Guided by Coding Excellence
Select Data's solutions leverage the insight of AI and NLP to improve quality outcomes and turnaround time.
Reduction in Reportable Readmissions
OASIS Recommendations Made per Record
Recommended Codes Per Record
Outsourced Coding & Documentation Review Services
Select Data brings together technology and expert team resources to turn operational challenges into revenue-generating opportunities.
Use Insights from AI & NLP for Better Coding & Clinical Documentation
As the first to leverage the power of artificial intelligence (AI) and natural language processing (NLP) to transform home health coding and documentation, Select Data is leading the way to better outcomes. NLP and AI come together to extract valuable insights from unstructured clinical data to provide actionable feedback for more accurate coding and CDI.
Leverage Our Team of Coding Experts
The Select Data team is staffed by coding experts with years of experience, in-depth education, and a commitment to quality to thrive in an integrity-focused environment. Quality assurance processes ensure teams deliver excellence in all services.
See the Difference in Quality Results
With US-based QA, carefully selected professionals, Select Data delivers high-quality coding, CDI, OASIS review, and auditing. The Select Data team is committed to excellence and identifies opportunities for improved reimbursement, insights into agency trends that can reduce risk, and recommends more accurate plan of care documentation.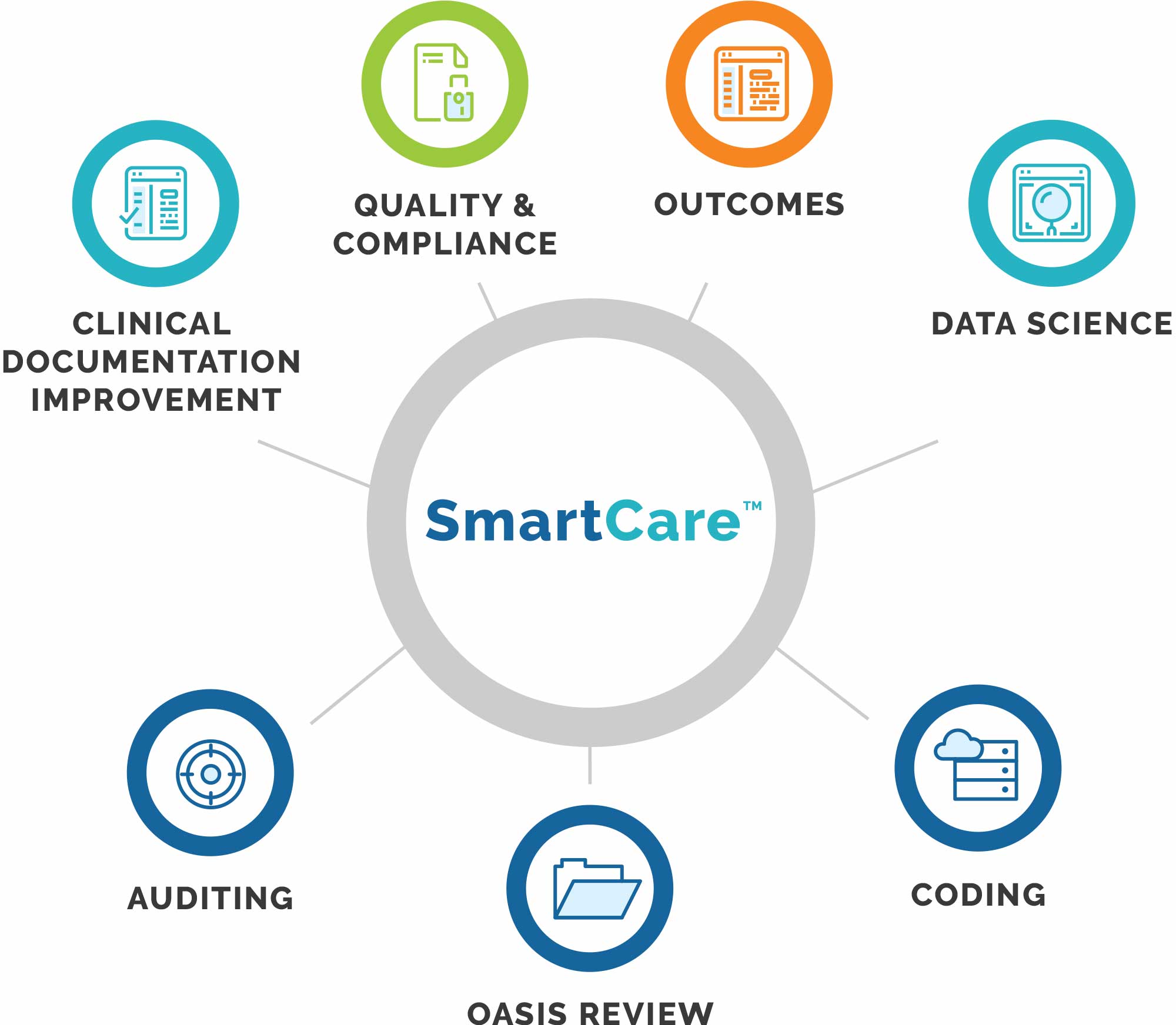 Outsourced Coding & Documentation Review Services

Achieve accurate reimbursement and lower risk of audit with professional coding & onshore QA. Powered by advanced technology, Select Data's SmartCare™ platform enables its expert team of coders to deliver high quality coding with a quick turnaround.

Our experts use SmartCare's clinical algorithms to identify corrections and areas likely to have documentation deficiencies. Select Data improves accuracy in OASIS assessments and coding, leading to better patient care and success with PDGM.

OASIS and coding errors can dramatically impact your bottom line. The Select Data team reviews documentation and coding practices and makes recommendations on strategic improvements for operations and PDGM success.
Achieve high-quality coding with more complete documentation, records coded to the highest level of specificity, and fewer Questionable Episodes (QEs)
Leverage an experienced team that accurately identifies opportunities for reimbursement and 

accelerated 

cashflow

Reduce risk of audits and penalties with high-quality, reliable coding and clinical documentation improvement

Streamline operational processes and eliminate repetitive data correlation utilizing SmartCare's natural language processing (NLP) to deliver a faster return of actionable recommendations
Achieve accura

t

e PDGM elements for Clinical Category and Functional Score, reduced ADRs, lower re-hospitalization rates
Ensure documented and coordinated Plan of Care is provided
Improve documentation using clinical algorithms to identify OASIS questions most likely to have documentation deficiencies
Drive ongoing improvements with actionable feedback from the Select Data team
Support ongoing quality improvement with regular auditing
Capture all reimbursement by ensuring there is no missing documentation, inaccurate coding, unrealized reimbursement, and incorrect OASIS responses
Gain insight needed to avoid future QEs
Lower risk for regulatory audits
Leverage insight from Select Data's detailed analysis and recommendations for improvement and education
Take Steps to Outsource Coding
Trusting an expert partner to handle coding and clinical documentation improvement is a huge relief and an effective way to quickly enhance operations for many home health and hospice agencies. Outsourcing these functions has an immediate and palpable impact with access to expertise, improved accuracy and quality, and better timeliness and efficiency. After outsourcing coding, home health and hospice agencies are free to focus on patient care and clinical outcomes.